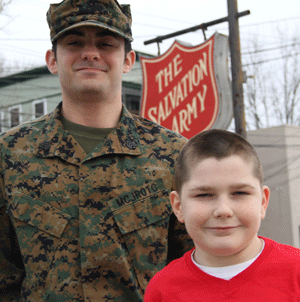 "I only have one word: awesome," ten-year-old Nathaniel Sullivan told his grandmother about the Summer Fun program at The Salvation Army in Fitchburg.
Because Nathaniel has autism, he doesn't always feel comfortable in new environments. "I can't say enough," says Mary Ann Parrott-Boyd. "They are good to him. They understand him."
Mary Ann is raising Nathaniel and his 17-year-old brother, Nicholas. In the spring when she received groceries from the food pantry, caseworker Deborah Andujar, told her about the Summer Fun program.
"Bringing Nathaniel here was great, because it is a drop-in program. There are mornings he is just a little off. I knew that I wouldn't lose my spot if he missed a day," says Mary Ann.
The Summer Fun program is supported with donor funds so that it is free for families like Mary Ann's. Summer Fun serves children aged 6-12 on weekdays from 8am to 1pm. Each week has a theme and students participate in sharing time, crafts, snacks and activities based on the theme.
"Nathaniel liked the field trip to the garden center," says Mary Ann. "They came back here and did planting. He likes doing things like that. We do it at home."
On occasions, when Nathaniel struggled to communicate with his peers, Andujar would give him extra attention. "He became my special helper," says Andujar, "and we would spend some time together until he was ready to rejoin the group."
Nicholas participates in Junior ROTC at school. At Christmas time, the group volunteers to ring bells at the red kettles to support the Fitchburg Salvation Army. "It feels good to give back," he said.
"Nick is always doing community service," Mary Ann says. "I tell him to stay home and do some community service. Clean your room!" Mary Ann smiles. She does that a lot these days thanks to The Salvation Army.