Enrollment
Learn how to enroll your child and download our application form.
Join Us
Support Us
Want to help? View our wish-list or make a donation.
Wish List & Donations
Our Staff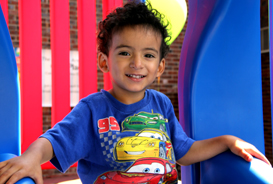 Meet our wonderful, caring staff and see our facility!
Meet Our Staff
Wish List:
Thank you for your interest in supporting The Salvation Army's Our Place Day Care Center. Our wish list is below!

GENERAL ITEMS - Items we could use ALL the time
New clothing (sizes 24 months, 3T, 4T, 5T, 6T, 7/8)
Socks (newborn - 5yrs)
Sneakers (for 1-5yrs)
Underwear (ages 2-5)
Baby wipes (soft)
Diapers (#4, #5, #6)
Baby Fruit (#1, #2, #3 - no mixed fruit, please)
Baby Vegetables (#1, #2, #3 - no mixed vegetables, please)
Baby Rice Cereal
Baby Yogurt Melts or Puff Snacks
Baby Lotion
A&D Ointment (or other diaper rash creams)
Toothbrushes (kids sizes)
Toothpaste (for kids)
Gold Fish Crackers
Ritz Crackers
Animal Crackers
Construction Paper (all colors)
Play-Dog
Glue Sticks
Bubbles
OTHER ITEMS
Washable Markers (large size)
Watercolor Paints
Paint (washable - all colors)
Finger Paint (washable - all colors)
Stickers (all kinds and sizes)
Small dramatic play table with two chairs (for 12-18 months)
Books (infant - 5yrs)
Musical Toys (3mo - 4 yrs)
Alphabet, Animal Sound Toys
Push Button Toys (1 - 2 yrs)
Arts & Crafts Items
Paint Brushes (larger size)
Toy Phones
Toy Trucks, Trains, Cars
Pet Smart Gift Card (for fish and supplies)
Dress Up Clothes (2 - 5 yrs)
Science Area Items (bugs, magnets, beads, seeds to plant, soil, etc.)
Sand for Outdoor Sandbox

CLASSROOM SUPPLIES FOR TEACHERS

Clear Packing Tape and Scotch Tape
Sponges with Scrubbers (for cleaning)
Copy Paper
White Out
First Aid Supplies (band aids, etc)
Classroom Back Packs (2)
Money for "Creative Curriculum Online Assessment Tool" Cost ($1,000/yr)
Pens & Pencils

ITEMS FOR PARENTS

Gift Cards (Target, Dunkin Donuts, etc)
Toiletries (deodorant, shavers, shaving cream, shampoo, conditioner, etc)
Hats, Gloves, Scarves (for winter)
Socks, Underwear (all sizes)
Work Clothes (for job interviews)
Household Goods (for when they find housing)
Towels
Support Our Place:
Our Place relies on donor support to make the service available to families in need. Your contribution will help us to meet increasing need and maintain the quality education our children receive.
Ways to Donate to Our Place at The Salvation Army in Cambridge
Helping Us to Help Others
The Salvation Army is a non-profit organization wholly funded by private and public donations. Your gift, of any amount, is needed to support our important community programs. Please take this opportunity to make a donation now to help those in Cambridge who are in need. Your gift is tax-deductible to the extent provided by law. Thank you! IN THE TRIBUTE SECTION, TYPE OUR PLACE.


Mailing in a Check? Please make checks to (memo: Our Place):
The Salvation Army Our Place
402 Massachusetts Ave.
Cambridge, MA 02139
or
The Salvation Army Divisional Headquarters
ATTN: Development Department
25 Shawmut Road
Canton, MA 02021